REGIONAL DIVISION OF YOUR COMPANY
Based on Excel maps of Poland we prepare regional division of your company of any level of detail: divided into macro regions, regions or areas or responsibility of individuals. Such a map can serve as just a visualization of the division, it can be a finished report where the colour of an area represents a concrete value (e.g. achievement of a sales purpose, sales level, product distribution). Regional division can also be created based on postal codes or even names of locations included in your data. Such a map can be fully integrated with Excel reports functioning within your company. See for yourself how one programme can help you manage better and faster.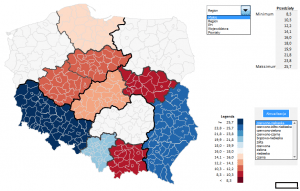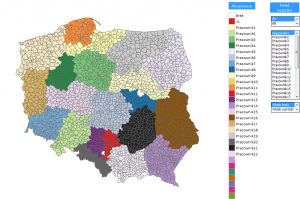 EXCEL ANALYTICAL DASHBOARD BASED ON A MAP
Analytical dashboard is an interactive report fitting in one screen. The starting point is the map presenting data in relation to geographical localisation (locations or administrative areas). By changing various parameters and criteria to compare (indicators, people, periods, products, etc.) we have the possibility to enter data details and directly compare the elements that are of interest to us. Placing all information on one Excel spreadsheet allows to catch relations that are invisible at first sight and supports the perception process going on in the brain.


EXCEL MANAGEMENT DASHBOARD
Dashboard is a specific type of report where the most important information necessary to achieve one or more goals is presented visually. The information is consolidated and placed in one screen in such a way that it is possible to follow in the blink of an eye. We will help you design dashboard for your area of operation in such a way that you can make decisions quickly and see more.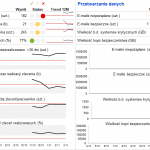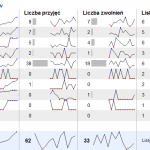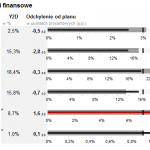 EFFECTIVE
REPORT ON REQUEST
Would you like to present figures in the best possible way? Would you like your reports to be readable and intelligible? You are preparing a multimedia data presentation and wonder how to present it best? You need data for a book, article, presentation? Check out how we can help you.
CHECK YOUR REPORT
Send us your report asking for our opinion. We will give you quick and professional advice.
ANNUAL REPORT SHAREHOLDERS AND INVESTORS WILL LOVE
Use the possibilities created by graphic communication and surprise your readers with a report on the subject of your company. Make your company stand out in comparison to others. Check out how we will make your annual report interesting.